CHOOSE THE ESTHETICIAN SCHOOL IN MARYLAND FOR YOU!
Aveda Institute Maryland's esthetics and makeup program is specifically focused on health and wellness principles! We teach our future estheticians holistic approaches to improving skin and promote better overall skin care practices. This program is VA approved and financial aid is available via the Free Application for Federal Student Aid (FAFSA®) if qualified.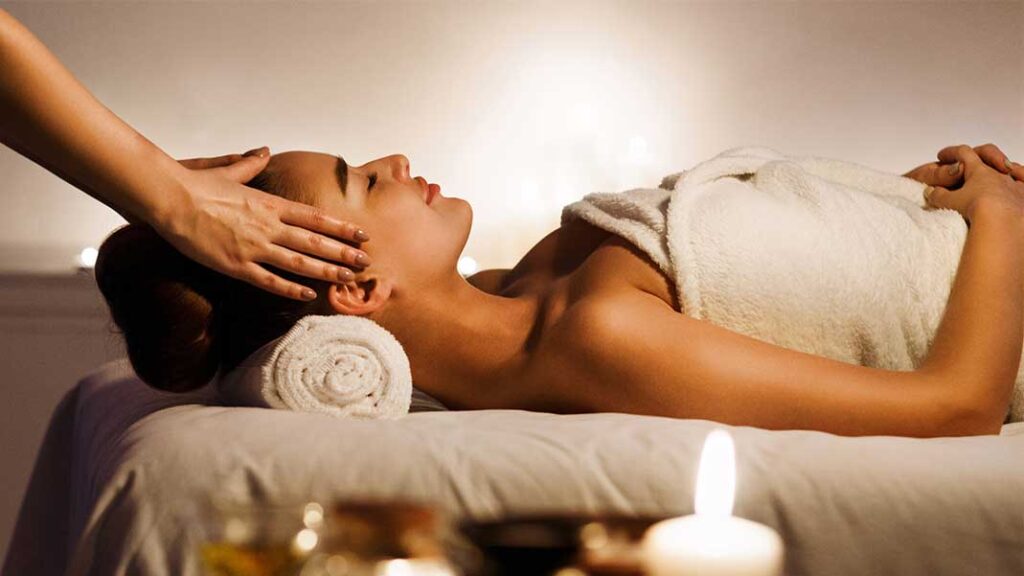 In addition, we use Aveda branded naturally-derived products to encourage overall wellness during each treatment. Each product that Aveda creates is not only safe for the skin but cruelty-free and environmentally friendly! Future estheticians have the opportunity to create custom experiences for every guest using a skincare line that caters to an individual's uniqueness and needs.
We prepare future estheticians and makeup artists to advise clients (using Aveda's Points of Difference) on how to care for their skin at home and maintain a healthy regimen. They can learn what product is the best recommendation for clients and about soft product marketing and branding.
About Esthetics/Makeup
Our program's instructional method consists of lectures, demonstrations, role-playing, and many more instructional styles to meet the needs of various learning styles. Moreover, we offer each student hands-on work, live demonstrations, and *practice in the clinic. In order to complete the picture of Aveda's renowned services and wellness, students receive the full Aveda Experience! Our goal is for students to be 100% knowledgeable on all things including skincare and be well-practiced in the spa.
In like fashion, a balanced and peaceful spa environment is important for clients. Using holistic approaches in aromatherapy, lighting, and music; we teach students how to set the perfect relaxing environment. Producing this type of comfort is a key element for Esthetics/Makeup students whether they wish to pursue a spa, makeup, marketing, or management career.  We believe it is important for our students to know that creating that perfect environment for clients is not only professional but also builds a trust relationship between a professional and a client.
*All services are done under the supervision of licensed individuals. 
---
The Path of an Esthetician and Makeup Artist
While our training can make a student an ideal candidate to practice under the Aveda brand salons and spas, students can specialize in other areas such as Facial/Skin Care Specialist, Waxing Specialist, Wellness Consultant, Aveda Educator, and Aveda Freelance Artist.
Moreover, esthetics is an interesting field to pursue because it can lead to so many rich career choices. By the time students graduate, they will have a clinical spa experience. Meaning that if they wanted to choose careers (after licensing) in paramedical esthetics or state board inspection they may be qualified to apply.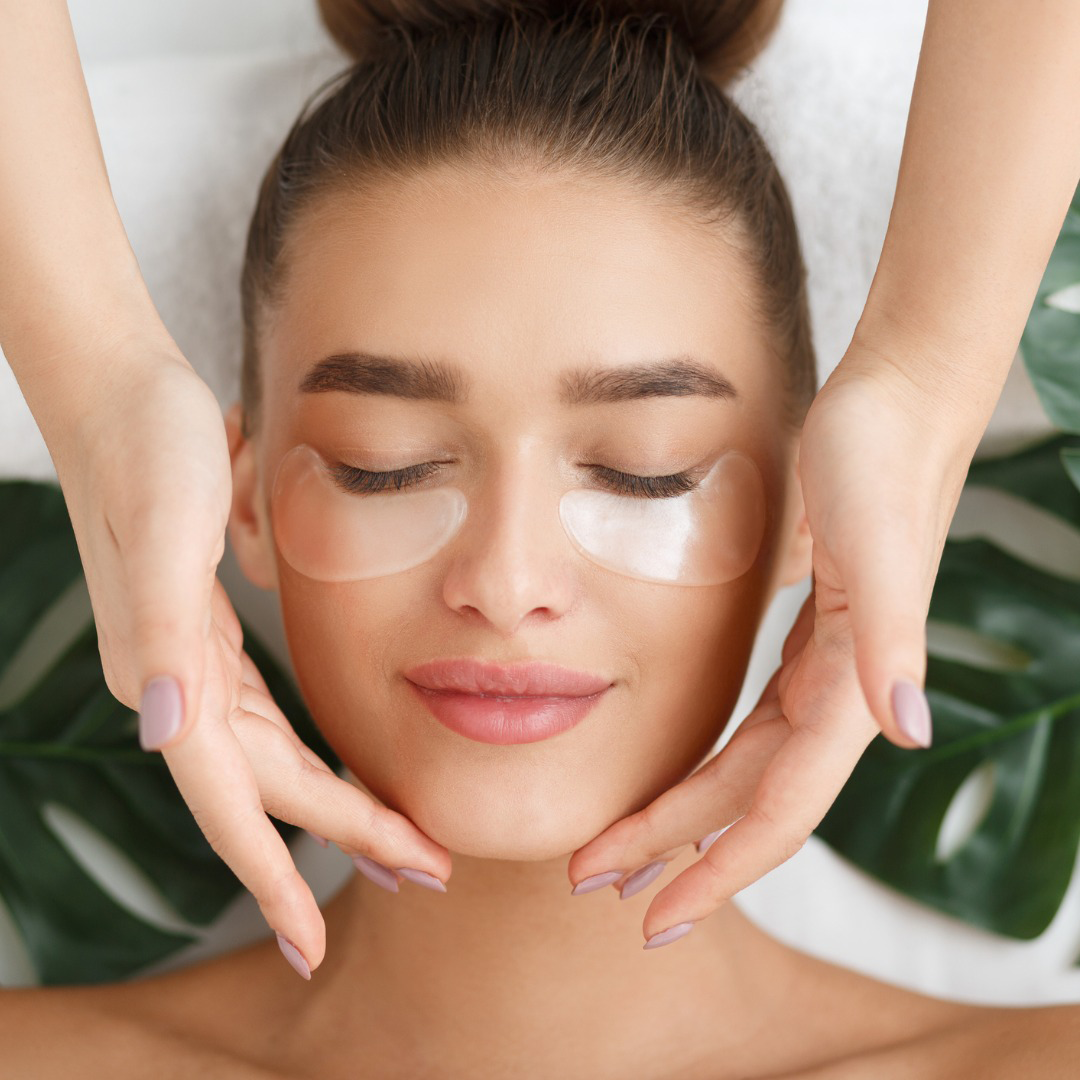 Furthermore, graduates can branch out into marketing fields such as cosmetics and beauty. Likewise, there are even more opportunities in purchasing, consulting, and management. We teach our students to think outside of the box when it comes to their education and careers.
In fact, for a quick look at what our esthetics/makeup students learn and do, check out our DIY: Facials at Home. Each student can learn unique Aveda facial processes that can relax and even put clients into a restful nap. As a result, facials are one of our popular services among guests.
---
Additional Program Information
Aveda's class sizes are around 15 students per class because we believe smaller class sizes allow each student to receive personalized instruction with close attention to detail.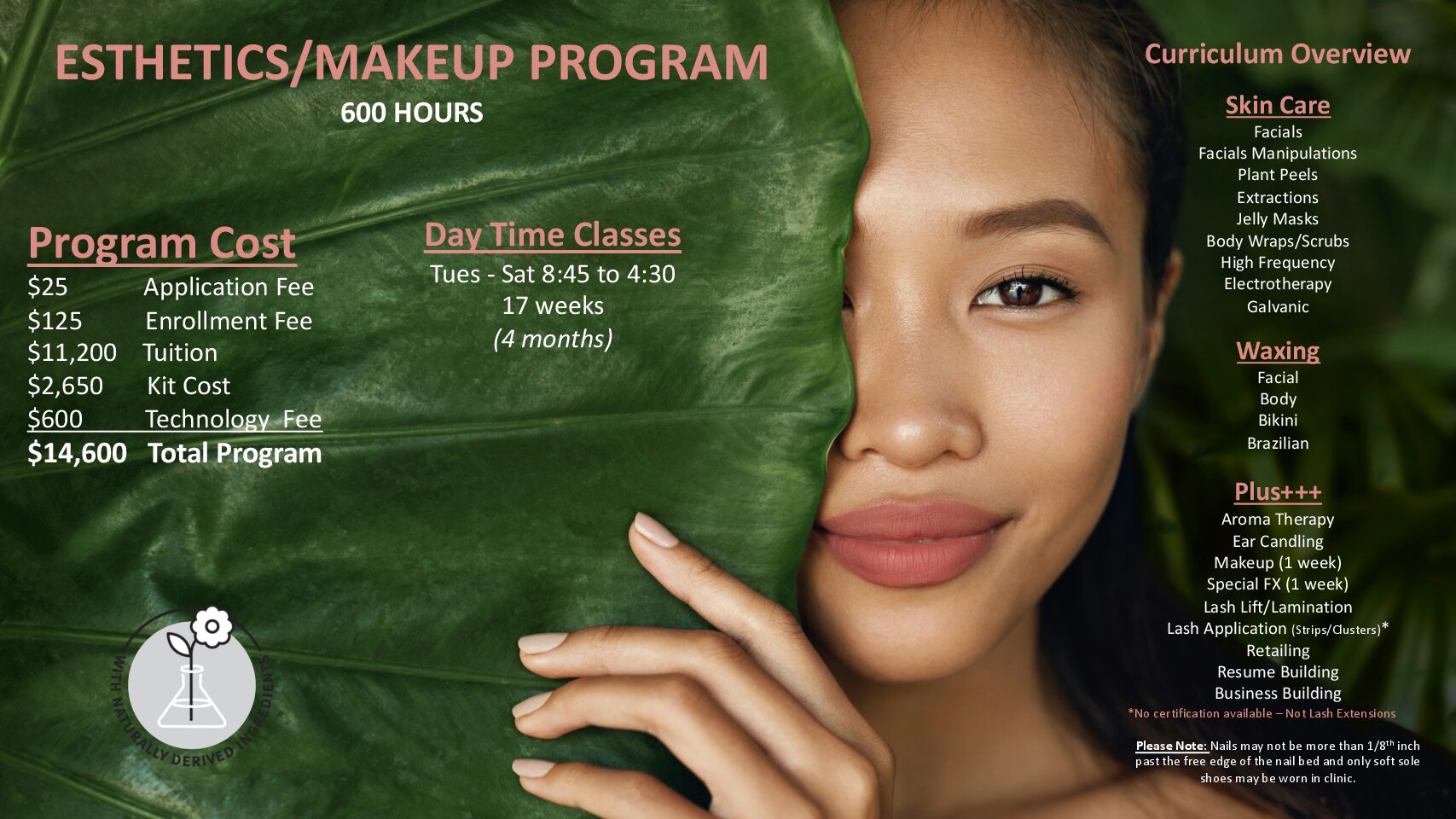 600 hours | 17 Weeks for Day-time Classes
Aveda Institute Maryland's Esthetics/Makeup Program teaches skincare, body care, waxing & makeup with an emphasis on high-touch techniques using high-tech delivery during spa clinic treatments. Moreover, upon completion of the program and sitting for the Maryland State Test, graduates may meet the requirements to become licensed Estheticians.
Additional Program Information
After reading all of these awesome things about Esthetics/Makeup, you may still find yourself wondering if this particular program is right for you. Well, we recommend taking a look at some of the other programs we offer.
2022 – 2023 Courses Commencing On:
Please contact us if you have any questions regarding any upcoming starting dates. In addition, sign up for a virtual tour to learn more about our programs and campus.
Day Program
July 18, 2023
August 15, 2023
September 12, 2023
October 10, 2023
November 7, 2023
December 5, 2023
January 2, 2024
January 30, 2024
February 27, 2024
March 26, 2024
April 23, 2024
May 21, 2024
June 18, 2024
July 9, 2024
August 6, 2024