Guests services has reopened and Monthly Promo Calendars are back!
Please be advised that all services that appear on the monthly guest promo calendars are by appointment only. Please read our safety protocols.
We are so excited to welcome guests back and to offer the Monthly Guest Calendar once again! Moreover, we dearly care for your safety and the safety of our students and staff. Moreover, we are limiting some services and requiring appointments to be set before you can enjoy any of our promos. In order to keep everyone safe, we have a new service system. We want you return home with a fresh new look and safely.
Please read the safety protocols on the guest services page carefully. If you have any questions, please contact us for clarity.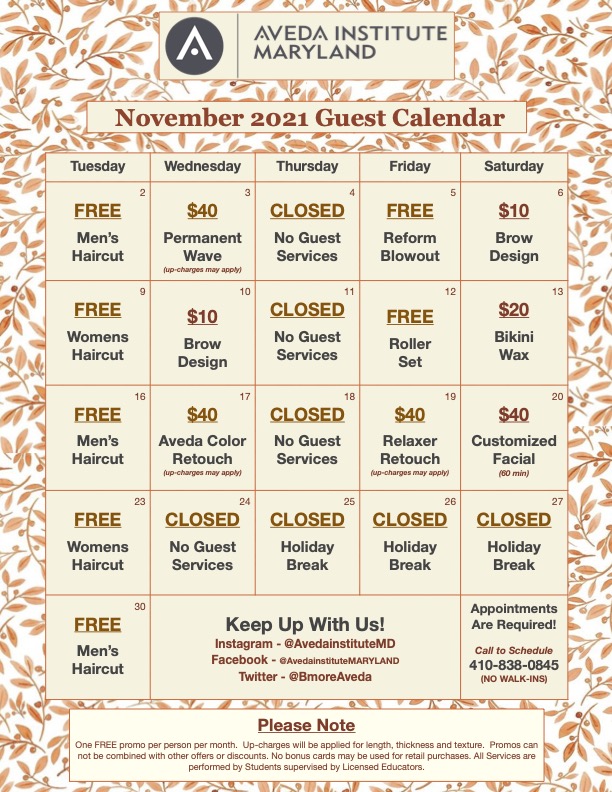 Thank you for reviewing all of our new procedures and Guest Services protocols. The Monthly Guest Promos can also be found on the same page as our safety protocols on the guest services page. Moreover, to help you gather more information that can help add to your safety knowledge, please visit the CDC's Daily Life and Going out page.
Interested in more than just promos? Well, then check out our programs. Our programs are perfect for a career switch. We also offer evening classes for working students. Not to mention, our students are highly sought after in our network. Yet, don't take our word for it.
At Aveda, we set the standard for success and the bar high for quality. We prepare professional experts in cosmetology, esthetics/makeup, blow dry stylist, massage therapy, barber stylist, and so much more! Learning at Aveda Institute Maryland is to learn about oneself! In addition, just like monthly calendars and promos, we also offer rolling enrollment each month!
Monthly promos aside, do you want to be successful and hone your beauty skillsets? Sign up for a virtual tour now!